Hi, Everybody!
VARK WARS: WALT'S EMPIRE STRIKES BACK
__________________
"Ya know what today is Matt?"
Uh...second of March...
"And what does THAT mean, Matt?"
That if Cerebus #300 was a person, this month it would be able to get a drivers license...
"What? No. What? No...no. That's...no. No! It means Dave's gonna be calling you on Thursday, and the video will be up on Saturday."
Well, last I heard, Dave wasn't feeling great, so Please Hold might not happen, but by all means, post your questions here, or send them to momentofcerebus@gmail.com and I'll either send them up now, of sit on them until April.
___________________
Speaking of momentofcerebus@gmail.com, Gerhard emailed:
Hi Matt,

I had thought that this would show up on Oliver's 'Cerebus Around the World and Web'... but, no.

The original posted was on Feb 19th.
http://gerhardart.com/article-and-auction/

I posted a reminder today:
http://gerhardart.com/just-a-reminder/

It's probably too late to get it in AMOC.
The auction's on Wed Mar 4

None of these folks have any money anyway.
None of us will after the coronavirus is finished with the stock market.

Best to you and the family,
Ger
www.gerhardart.com
Up for Auction
is:
Cover to #188
#91 page 20
#98 page 1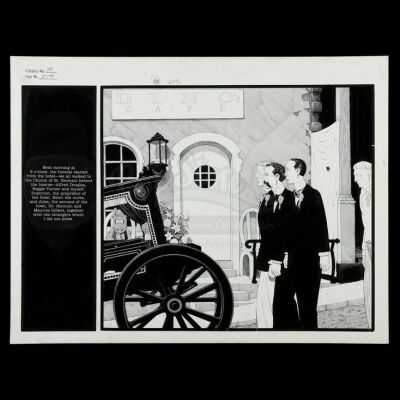 #149 pages 14 and 15
#263 page 14 and 15
I can't afford any of that, so good luck Jeff!
___________________
And over at
Heritage
, they got all sorts of goodies. (Including the cover to issue #15, next month.)
___________________
Gee, I can't even remember what I was gonna post about before all that happened.
Next Time: If I remember, THAT...